Most new writers, marketers, or interviewers ask this question how to build links for a new website or a new blog to rank faster. You know there is an epic challenge with ranking on the first page of google or in a search engine in a particular niche. 
No, it's not about the technical skills you have. It's about the right information and tactics you can use to rank your website in search for free. 
If you are a beginner in SEO or marketing, you have to know that building backlinks is one of the Major components of SEO.
So when we talk about SEO, most new bloggers and marketers say that I am not a technical person. This is a myth or wrong belief about SEO. Today SEO is a multi-dimensional skill.
 Ranking a new website has different factors, like on-page SEO, off-page SEO, LSI elements, long-term SEO, and so on. This is because there are so many signals to tell Google that your website or answer is the best for the user.
 When a user types a query, Google decides to show 1, 2 & 3 or based on 200 different signals.
 Let's Understand more deeply about backlinks.
What are backlinks?
A backlink is an incoming hyperlink from one website to another.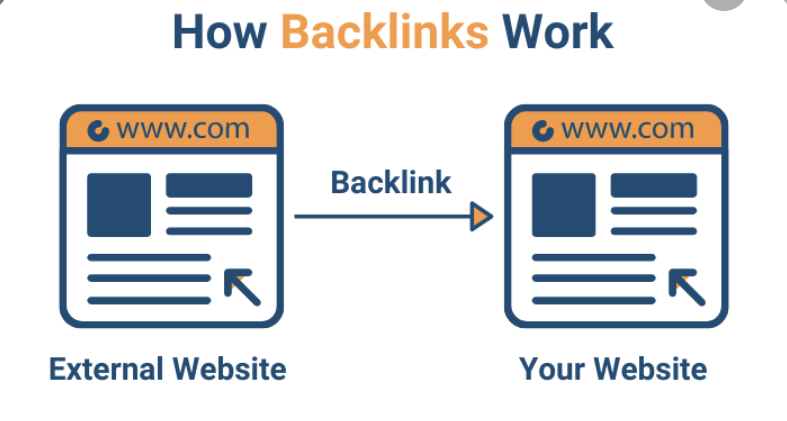 This is how HTML version looks like
 <a href="https://yourgrowthhacking.com/how-to-become-a-content-writer-in-india/html/">yourgrowthhacking</a>
This is how this looks for the user- (Yourgrowthhacking)
Anatomy of a backlink- 

This is the HTML version of the backlink. The URL is where the destination is, and the text which wraps around is the anchor text.
Why are backlinks important?
Backlinks are still one of the biggest ranking factors for Google in 2021. It is like a vote from one website to another. The more relevant votes it gets, the more Google will value it. 
 What Google will do here is very simple. It is crowdsourcing signals from all websites to tell whether your website is worth it.
 If the sites link out to your website, It means that your content is worth a link to, which gives a signal to Google saying that, okay?
 This website might be very informational and very useful to all users, so I must push it to higher-ranking positions in the search results.
 Also, backlinks will give you healthy referral traffic if you get them from the right places. So it is safe to say that backlinks are one of the backbones of SEO. Now we have established. The fact that backings are very important when it comes to ranking a new website.
7 hacks to build backlinks for a new website.
There are seven basic ways how to build links for a new website.
Competitor links: First, go through the competitive backlinks profile. Why is it important?
Two main reasons you must know-
First, You need to know that SEO is a very relative process. It means that it completely depends upon what your competitors are doing and,
Second, what all other websites are doing, for you to break through and outrank them.
Profile link: Doing profile links can be in social networking profiles, forum profiles, and any other kind of data profiles. Usually, these kinds of links have a lot of authority.
Blog comment: In this way, you go to a particular blog, comment sections, and three-four subsections where they will ask for your name, email, website URL, and the comment that you want to post.

Now this name and URL become your anchor text, And the URL will ultimately be done into a backlink. And then when you put a comment and when it passes through moderation after that when it goes live in the particular blog post, you have earned a particular backlink.
Contextual links: The links which are present in the content are contextual. Which are wrapped by content around it can be in the form of web 2.0 property like a tumbler or probably a guest post, can also be a press release, or it can be an article that you have posted somewhere.
Image links: Image links are straight out anchor text as images. Many big companies and affiliate marketers do that in the form of giving out images for websites to get a backlink for a particular thing. This can also be in the form of an infographic where you can design an infographic or a valuable infographic and share across different websites and try to get backlinks.

Content repurposing: Content repurposing means designing old content in infographics, brochures, or an ebook. Then share the link in other websites, blog comments, channels to get links. For example, in YouTube and podcasts, you can share the content in video and audio and get the link of your website in the descriptions.

Community site links. Community Sitelinks means answering the questions in the community platforms like in forums, quora, and medium, then sharing the link of your blog or website, answering the questions related to the topic on these platforms, and sharing the links in descriptions.
How to build links naturally?
Today Google's algorithm is much more advanced and much more intelligent. It will understand if your website is manipulating google algorithms by building backlinks in a very artificial manner. Google will not hesitate to penalize your website. So it is very important to build backlinks in the most natural way possible.
 To build backlinks, you have to create amazing content, don't create content for the sake of quantity. When you create amazing and really useful content, you don't have to build backlinks because people will start linking to your piece of content because they find it extremely useful. They want other people to view this particular point of content.
Conclusion:
Building backlinks for new websites is like running a marathon. Always ask for the backlinks and make a pitch to invite guest blogging or do guest blogging for other bloggers in your niche. Make your brand active on social media to get attention from users or your target audience. You have to be proactive, create as much valuable content, and don't forget to share.